To activate the email delivery of documents, go to Apps and click Activate under the Accounting app.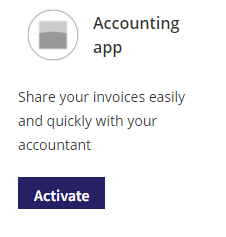 Set Email delivery to ON and click Next.
Choose if you want inbound and outbound documents to be sent to the same email address or to separate ones.
Enter the import email address of your accounting software and select how invoices need to be attached and if you want to send the PDFs alongside the e-invoices.
You can also enter a separate email address where the bank statement files should be sent.
Click on Next then on Finish in the next screen.