We recommend to every new Billtobox user to import their suppliers. For new suppliers that hadn't been imported at the time, you can have them created automatically thanks to the OCR.
Table of contents:
Automate the creation of suppliers
All you've got to do to automate the creation of new suppliers is to enable the autocreate suppliers setting.
Go to your Settings



Automation


Enable Autocreate suppliers and Autonumbering of your Suppliers


Choose the starting value and template

For customers that haven't been created yet, the OCR pre-populates the supplier's information.
If a supplier already exists in your list, the invoice will automatically be linked to it (on the basis of the supplier's VAT/IBAN number, given that this information has previously been filled out in the supplier's file).
What happens when the auto-creation of suppliers is disabled?
When receiving an invoice from a new supplier, their name will be extracted by the OCR and it will appear in the drop-down menu followed by "(new supplier)".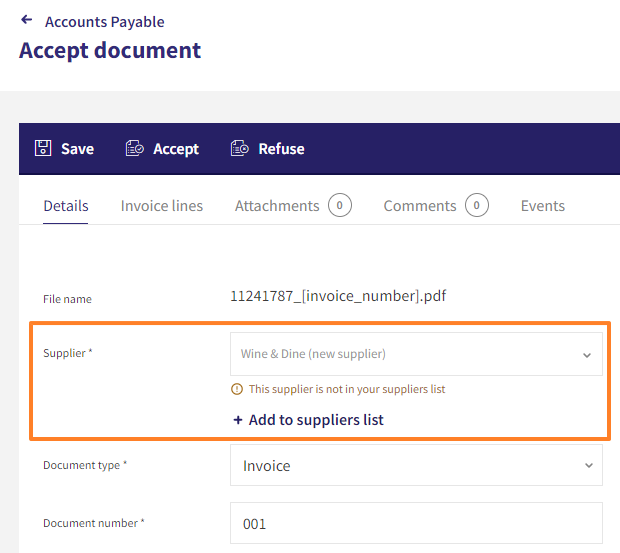 Before you can accept the document you will first need to create the new supplier. To do this, click on + Add to suppliers list.
A modal appears, from there you can add the new supplier's information.
Only 3 fields are required here: the supplier's number, the supplier's name, and country.
Click the Save button and your new supplier will be created.