The first instance of the Billtobox Files registration process is through the web application. After registration, you have access to your vault via the Billtobox Files site. This web application allows you to connect to your vault and use it from any location (as long as you have an internet connection).
In general, one works from the same computer; therefore, it is recommended to install the Billtobox Files synchronizer, if necessary on multiple devices.
Advantages of the synchronizer:
File management is done from the explorer and is therefore more intuitive and easy. The mouse is more useful and allows you, for example, to move several files in a single action.
You have a copy of your vault on your own PC. It also allows you to work without an internet connection.
Installing the synchronizer
The desktop app installer can be downloaded from the web app:
On the top right of the screen, hover your mouse over your name to display the following menu: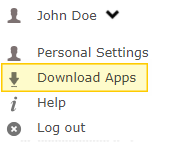 Click on Download apps.
Download the installer for your OS.
Open the installer and follow the steps on the screen and reboot your computer when prompted.
After reboot, you'll be prompted to enter your email address then your password. Enter them to log in to your account.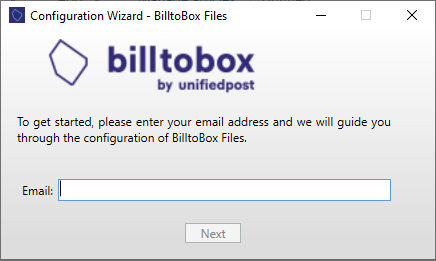 You can now import your vault, a drive will be created on your computer.
Note: if you install Billtobox Files on a Windows server, do not import as web drive, but read this instead.
After import, a green checkmark appears next to the vault.
You can always change the drive's letter from your computer's settings.
You can now manage your Billtobox Files from your computer.
Updating the synchronizer
Avoid mishaps by updating the app regularly. A new version is available every two weeks.
Please reboot your computer after each update.