The Doc Center is used to store your documents that are not invoices or credit notes and share them with your accountant if you choose to.
Table of contents:
The Doc Center is two-fold:
Local files

My documents
Files uploaded here are stored in your Billtobox account and you can access them from anywhere. They're not shared with your accountant.



Shared with accountant
This folder is shared with your accountant. All documents in this folder are available to you and your accountant.
It contains 2 sub-folders:

Accountant to enterprise
Documents your accountant has sent to you.
Enterprise to accountant
Documents you've sent to your accountant.
Organizing documents
To organize your documents and find them easily later, you can create folders by clicking the Create new folder button.
Your created folders appear under the My documents folder: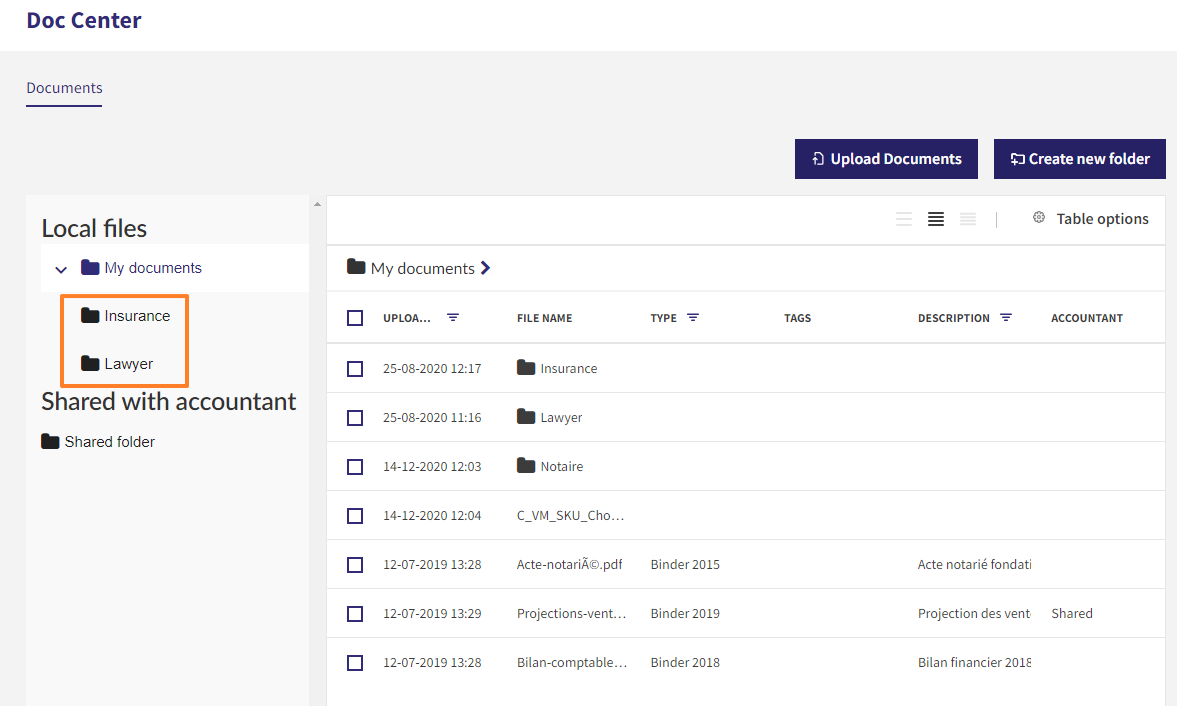 Once created, you can organize your documents in these folders.
From the details page (click any document to open the details page), you can add tags to your documents. These tags will make it easy to find documents later.

Tip:
with a right-mouse-click on a document, a menu opens and you can rename your document, share it with your accountant, move it to your accountant, create rules for the folder or delete it.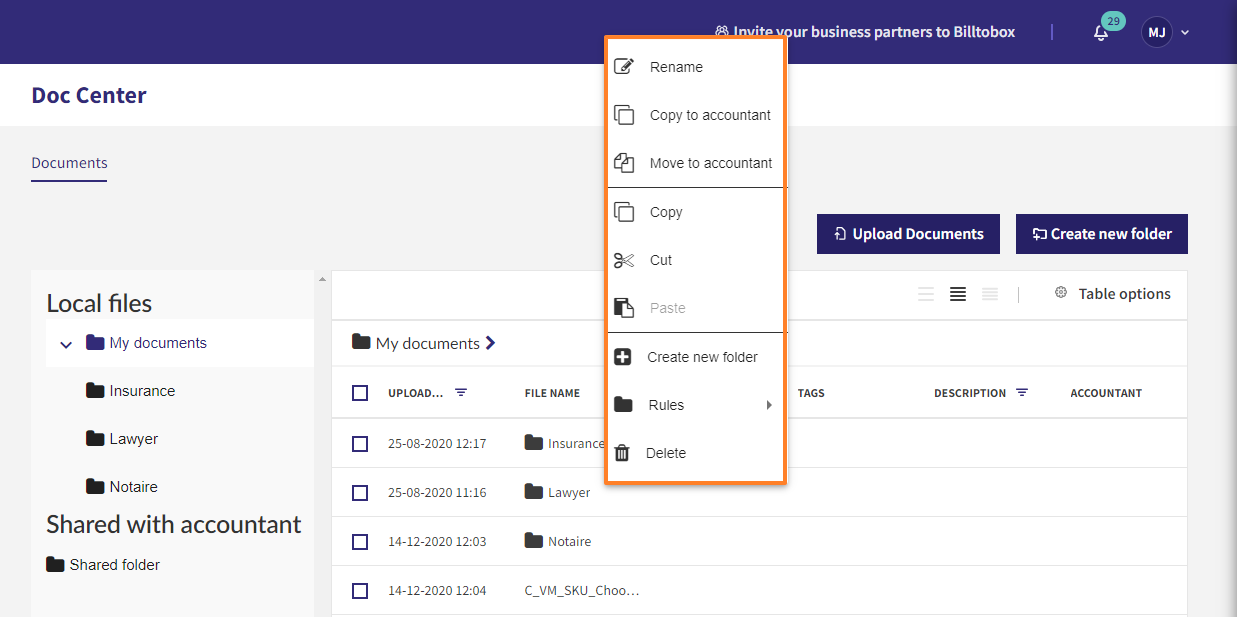 Creating sub-folders in the Enterprise to accountant folder
You can create a rule on a folder so that any document imported to this folder also gets forwarded to your accountant.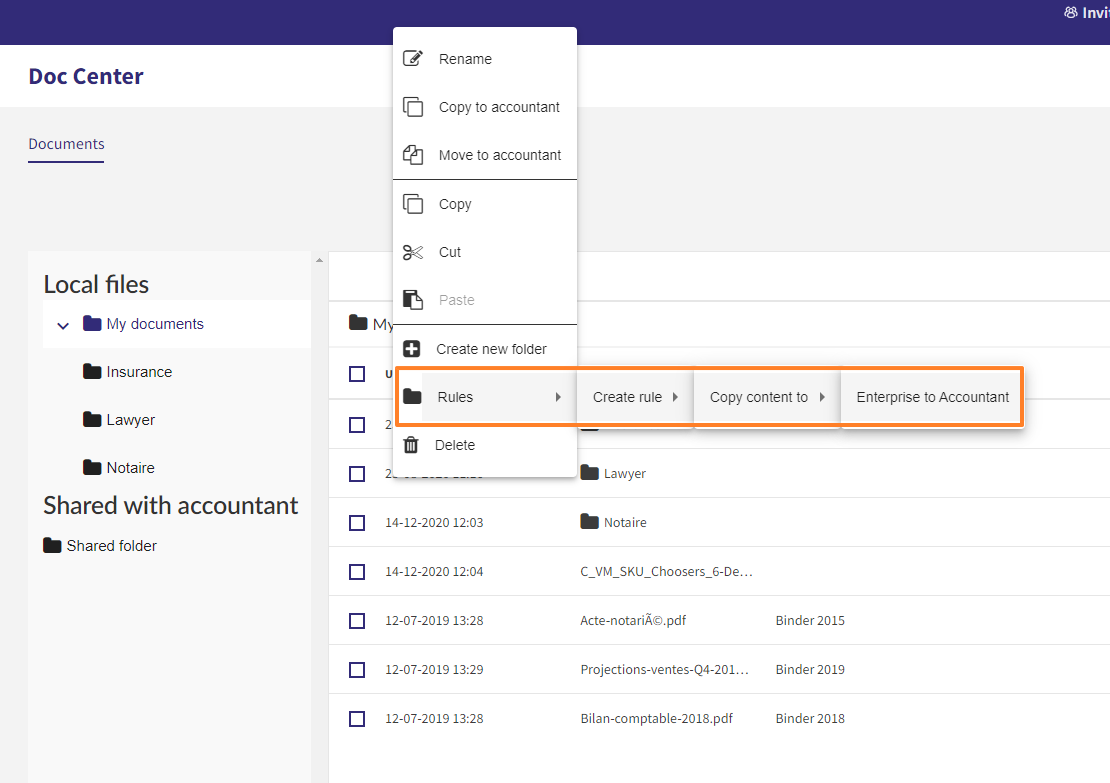 This can be used to create a tree-view in the Enterprise to accountant folder.
When the Copy content to Enterprise to accountant rule is created on a folder, importing a document to this folder will create the sub-folder of the same name under the Enterprise to accountant folder.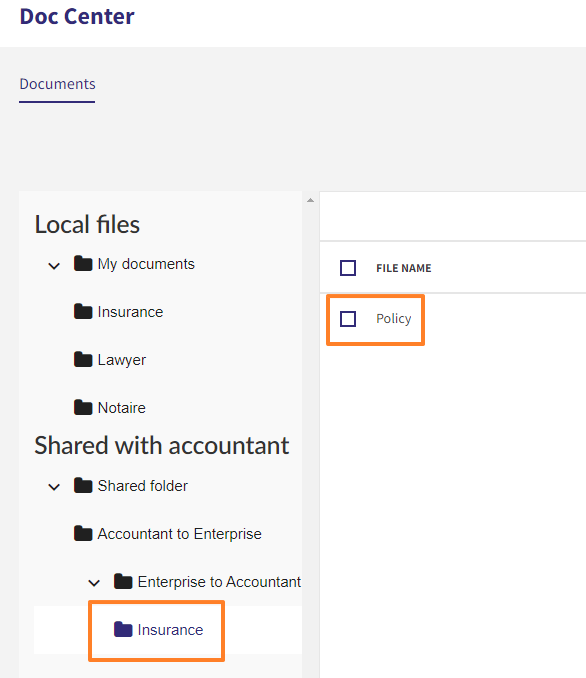 Note: deleting this folder from your local files won't affect the folder shared with your accountant. You can delete the documents inside the shared folder but not the folder itself.
Linking the Doc Center to my accountant
If the link hasn't been made between your Billtobox account and your accountant, you'll have to follow the instructions on the screen. There are 2 possible scenarios:
The accounting app hasn't been activated yet between your accountant and yourself, you need to activate it.
The accounting app has been activated but your accountant doesn't use Billtobox Files to receive your files. You need to click on Connect and fill out your accountant's name and VAT number. He'll get an invitation to establish the connection between him and your Billtobox account, which will allow you to share documents.
Forwarding documents from my company to my accountant
You can simply upload any document directly in the Enterprise to accountant shared folder.
Note: it is advised to keep a copy in your My documents local folder because when your accountant deletes a file from the shared folder, it also gets deleted for you.



A document in My documents can easily be shared with your accountant:
Select the document
Click Copy to the accountant to send the file to your accountant while keeping a copy in your local folder.


You can also find this button on the details page of any document.
Any document copied to the accountant appears in the Enterprise to accountant folder.
Documents that have been shared with your accountant are marked as shared in the Accountant column.

Where do I find the documents sent by my accountant?
Documents sent by your accountant will appear in the Accountant to enterprise folder.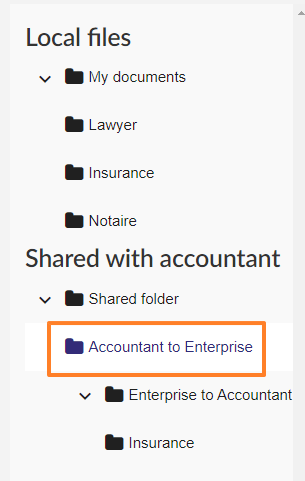 To save a copy of a document sent by your accountant, select the document(s) then click on Copy to My documents. You and your accountant can access the file(s). If your accountant deletes the document(s), you can still access it/them from My documents.
Getting notified when my accountant shares new documents
Want to get an email notification when your accountant shares new documents in your Doc Center?
Go to your Settings > Reports > Doc Center Reporting > choose who gets these notifications and how often (daily or monthly).


I imported a document in my accounts payable instead of the Doc Center, what can I do?
If you uploaded a document in the wrong place by mistake, you can move it to the Doc Center:
Select the document(s) from your Accounts payable
Click on Move to My Documents (moves the file(s) to your local folder)
OR
Move to Accountant (moves the file(s) to the shared folder)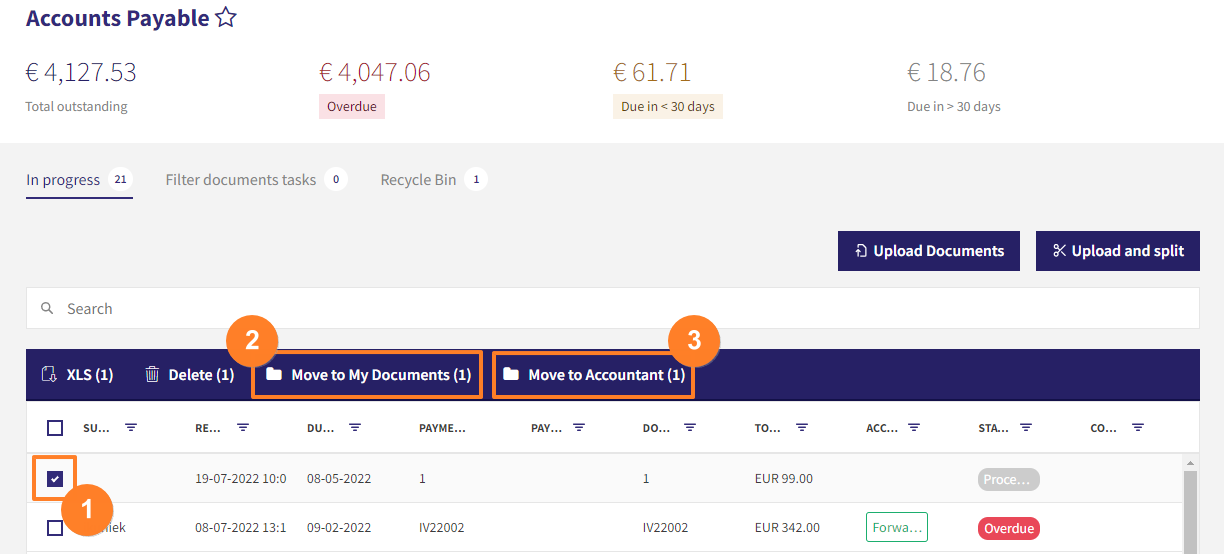 Note: to be able to do this, a user must have the Add and delete documents role enabled (#23 in this article).