If you decide to install Banqup Files on an RDS server and need to import the vaults locally, it is advised to import them via the Webdav protocol.
No data is stored locally on your devices, everything is in the cloud.
Note: to synchronize a vault as a web drive, the vault must not yet have been imported via the Import as Synchronized Virtual Disk option beforehand. If the vault has already been imported, please delete it first (via right click).
Importing as web drive
Open the dashboard
Click on the two arrows pointing down to the right of the vault name
Select Import as web drive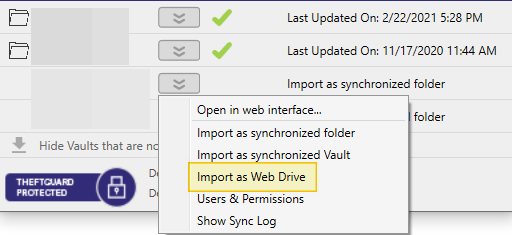 Importing as web drive is possible by default. Can't see this feature? Then click here.